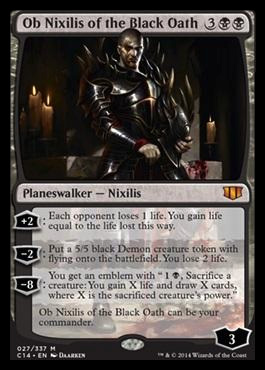 Oh, yes.
It's spoiler season for the new Commander set. Check out the progress over at
MythicSpoiler
. When we saw the early spoiler for this set, Teferi was the big reveal with the special text added to his planeswalker card that read, "...can be your commander." In other words, we're getting planeswalker commanders in this set.
So now, the spoiler train is rolling and we've got Ob Nixilis of the Black Oath. Normally, when we see this guy, he is full-on demon diva. But not this time. This time, we see him in his spark state as a planeswalker. Check out the flavor text on Ob Nixilis the Fallen. I wonder what happened?
That black oath stuff must be pretty powerful because check out his loyalty abilities.
The +2 gets better the more opponents are out there, but the first +2 activation gets him to 5 loyalty counters. Not bad for a 5CMC planeswalker. Otherwise, look no further than the -2 loyalty ability. Sure, it drops him to just 1 loyalty on the first activation, but you get a 5/5 demon token out of the deal. I can't wait to see the token!
His -8 ultimate is similar to Disciple of Bolas. It's an emblem, which so far has been immune to interaction. This set might change that by giving players a way to affect emblems, but if not his emblem gives you the ability to wring your guys out at instant speed for cards and life. Repeatable card draw is powerful stuff.
We're reaching back for flavor on this set, and I can't wait to see the entire spoiler.