Really big news, incoming. Planeswalkers as commanders in the new Commander preconstructs.
Let me say that again a different way: Planes. Walkers. As. COMMANDERS.
Stay on top of all the details over at
MTGSalvation
.
What we know right now:
1) The new Commander sets will be mono-colored.
2) There are new, special Planeswalkers that can be used as your commander.
The mono-blue planeswalker is Teferi. This is pre-mending Teferi, so he's still all juiced up with his spark.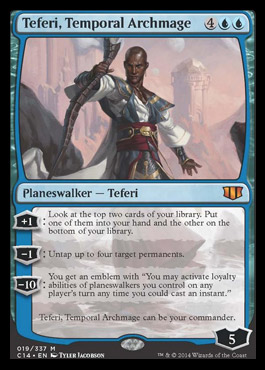 I was at my local card shop yesterday (winning!), and the idea of using planeswalkers as commanders in an official way was polarizing. Half the group thought it was awesome. The other half thought that it was the death knell for the format.
Since the planeswalkers in question have specific text that allows them to be used as a commander, we probably aren't opening Pandora's box too far on this round. Plus, Teferi doesn't look
that
crazy.
We'll see how this plays out, especially as the new planeswalkers get spoiled. I, for one, am interested to see what they do with the old 'walkers. As a long-time follower of Magic lore, this is a pretty exciting time to be seeing new cards.
That said, I was under the distinct impression that the
pre-mending 'walkers were much more powerful
. I remember Bolas saying something about it in one of the novels, even. This version of Teferi as a planeswalker doesn't seem to represent that power, at least not on the surface.