Come on! I'm looking for a UB Demon Legend, here. :) Ah, but I takes what I can gets.
Check out the details
on M14 plus Duels of the Planeswalkers 2014 over at Star City Games.
Included is this guy: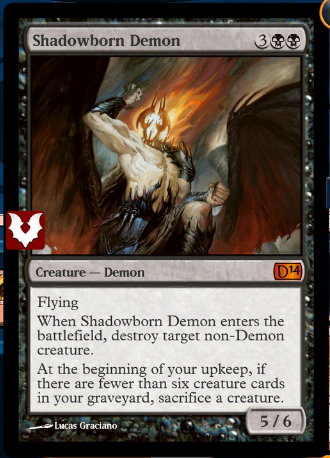 Shadowborn Demon - 3BB
Creature - Demon
Flying
When Shadowborn Demon enters the battlefield, destroy target non-Demon creature.
At the beginning of your upkeep, if there are fewer than six creature cards in your graveyard, sacrifice a creature.
5/6
In addition to looking super-friendly with a face made out of fire, he's a 5 power flyer for 5 mana. Plus, he kills something on his way in. You know, 'cause he's born out of shadows. And his face is on fire. Or, his whole head is made out of fire. Something with fire.
But he's not all just fun and games. The best demons aren't. And by "best," I mean, "most flavorful." You have to keep some creatures in the graveyard to keep from feeding this demon snacks every turn. At least he doesn't also eat creatures from your graveyard. Note, his first ability is not a "you may" ability. It's not optional. If you summon this guy, you have to destroy another creature. If it happens to be one of your creatures, well, that's alright with fire-face too.